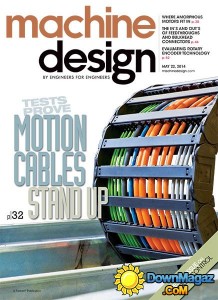 You can read about the Touch Robot in Machine Design's article, "Soft-Touch Robots Nix Complicated Kinematics and Delicate Force/Torque Sensors with Software to Improve Complex Machining." Machine Design was founded in 1929 and publishes issues bimonthly covering a variety of engineering and technology topics. Author Elisabeth Eitel writes:
"The Touch Robot is also safe around humans. The arm can't reach beyond the tabletop (500 mm in any direction); low motor-supply voltage (24 Vdc) limits speed; and a person can easily overpower the arm's modest force capacity and low-friction back-drivable joints. (In contrast, plants must usually cage conventional robots.) The safe nature of the Touch Robot lets operators use it like a laborsaving appliance, for example, tasking it with removing the heaviest and most difficult-to-reach material on a casting-finishing job so operators can devote more time to fine-finishing and inspection."
The article was published in the May 22, 2014 issue, but if you can't pick up a copy, it is also available to read on their website.